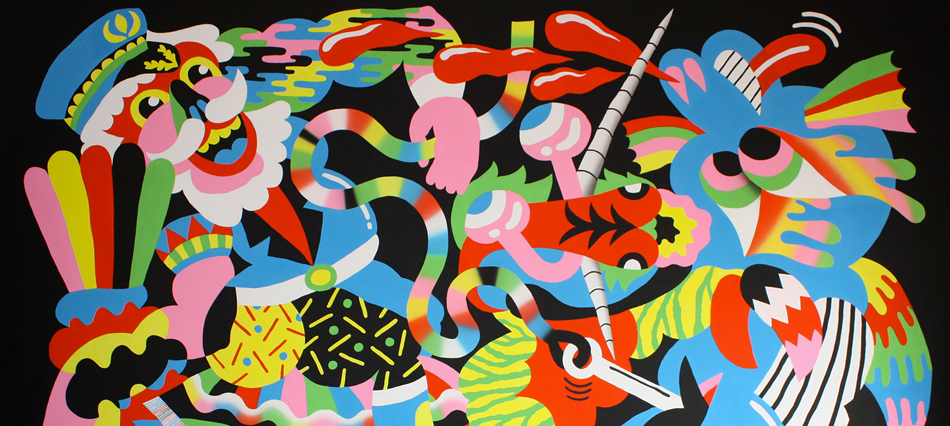 Born in 1978 in France. Live and work in Tenerife.
Louis Lambert (Lille, 1978) is a French artist living in Spain since 2001. 3ttman (pronounce "3 têtes man") is his alter ego with three heads whom he began painting in the streets of Lille in 1999, according to the artist it depicts the profound complexity of human beings and the different views that arise from one same situation. The primitive art and its intuitive force particularly fascinate lambert. Multifaceted, he assimilates in his work popular languages to make clear the innate ability of any form of expression to transcend the mundane and become art. By paying special attention to material experimentation, he has innovated with a myriad of technics using cement, papier maché, oriental ceramics, and a wide range of different formats ranging from painting to large-scale mural work. To him, creative pleasure is inseparable from the process; he enjoys working and it is directly reflected in his particular style: dynamic, colorful, cheerful and authentic.
His interventions have led him to work with renowned institutions such as the Tate Modern (Street walking tour 2008), El País (ARCO 2012), the Spanish embassy (realization of a mosaic wall 30 meters in Hanoi 2010), the MUVIM (Valencian Museum of the Enlightenment and modernity), and participate in top international mural festivals.
Né en 1978 en France. Vit et travaille à Tenerife.
Louis Lambert (Lille 1978) est un artiste français résidant en Espagne depuis 2001. 3ttman (à prononcer 3 têtes man) est son alter ego tricéphale, qu'il a commencé à peindre dans les rues de Lille en 1999, celui-ci permet d'exprimer à l'artiste les différents points de vue surgissants d'une même situation et la complexité de l'être humain en général.
Artiste plurivalent, il joue à assimiler dans son travail les diverses formes d'expressions populaires rencontrées dans sa vie quotidienne et au cours de nombreux voyages, afin de traiter des thématiques actuelles d'un point de vue symbolique.
Ces recherches l'ont amené à œuvrer avec des matériaux aussi divers que le ciment, la céramique, le papier mâché… et des formats variant du tableau au mur gigantesque. Cette démarche situe l'artiste à la croisée de l'art contemporain, du street-art, de l'art primitif et de l'artisanat. Il affirme ainsi que par essence toutes formes d'expression peut transcender le banal pour devenir de l'art. Pour 3TTMAN la jouissance créative est indissociable du processus d'exécution, il prend beaucoup de plaisir à travailler et cela se ressent dans ses oeuvres.
Oeuvres originales