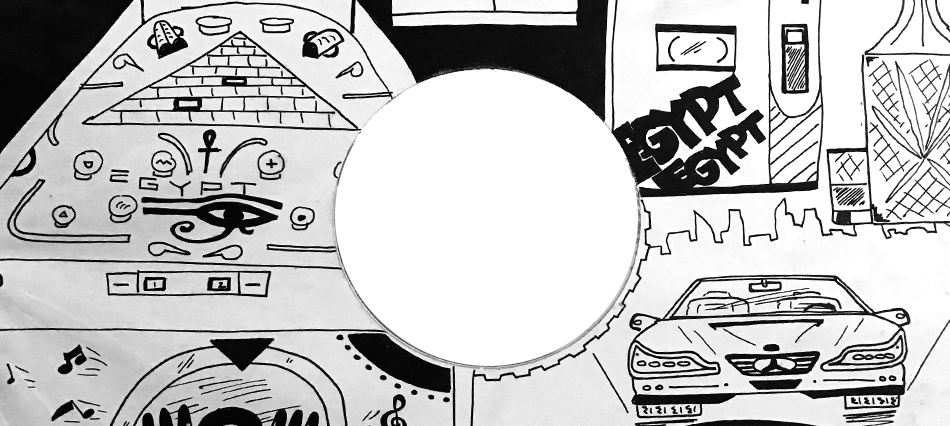 Born in 1963 Los Angeles. Live and work in Los Angeles.
The Egyptian Lover started out as a DJ in California with Uncle Jamm's Army. He began recording around Los Angeles in 1982 as a member of the Radio Crew, as well as Uncle Jamm's Army.
Most of The Egyptian Lover's successful recordings were 12″ singles. He eventually released some of the earliest rap LPs. After a break in the early 1990s, Egyptian Lover returned in 1994 with Back from the Tomb, his first full-length album in over ten years.
The Egyptian Lover also established his own record company, Egyptian Empire Records, which included artists such as Rodney O & Joe Cooley.
His 2015 release, « 1984″, continues his tradition of using all analog equipment, including his famed Roland TR-808 (in which he is widely known as 'The King of'), along with much of the same gear used in his earlier recordings of the 1980s. The name 1984 refers to a throwback of his earlier albums. The album was recorded at Skip Saylor, Encore Studios, and at RUSK Studios, the same studio that On The Nile was recorded at in 1984. It is widely available on double gatefold LP, CD and cassette tape.
Greg Broussart aka Egyptian Lover also draws on 12″ sleeves. We are excited to present you some of his customized originals sleeves. Black and white drawings on 12 inches sleeves.
Né en 1963 à Los Angeles, vit et travaille a Los Angeles.
Egyptian Lover a débuté en tant que DJ en Californie chez« Uncle Jamm's Army ». En enregistrant ses premiers titres à Los Angeles en 1982, il invente son propre univers electro hiphop, s'alimentant de visuels égyptiens.
La plupart des classiques de Egyptian Lover sortent en singles (12 pouces). Après une pause au début des années 1990, Egyptian Lover revient avec Back from the Tomb, son premier album après plus de dix ans d'absence.
Il crée alors sa maison de disques « Egyptian Empire Records », produisant des artistes tels que Rodney O ou Joe Cooley.
Son dernier opus réalisé en 2015 « 1984 », reste dans la tradition analogique grace à sa célèbre Roland TR-808 maîtrisant cette machine comme personne. Toujours sur le même équipement que dans ses enregistrements des années 1980, il reste fidèle à la tradition et choisit le titre « 1984 » pour marquer le retour au son qui l'a fait connaitre. Il est disponible sur double LP gatefold, CD et cassette.
Nous sommes très heureux de vous présenter quelques-unes de ses pochettes originales, customisées à la main par le Roi du 808. Dessins réalisées en noir et blanc sur pochettes de maxi 33x33cm (12x12pouces) trouées au centre.
Dessins sur pochettes de disques