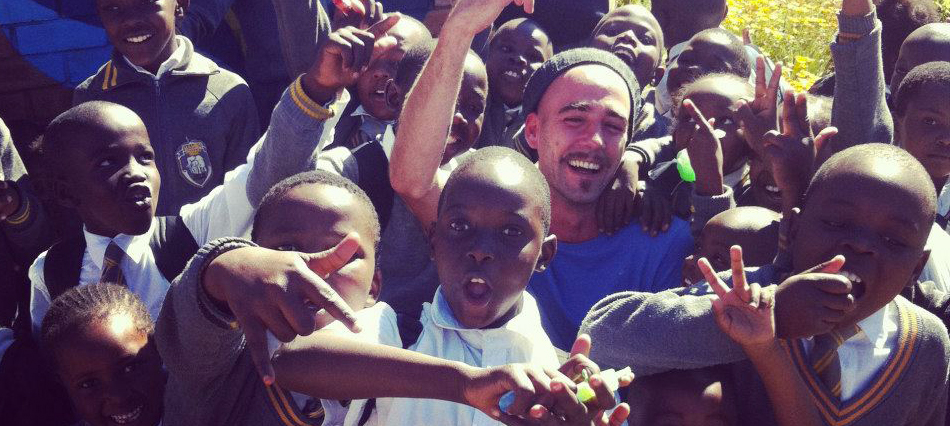 Born in Paris in 1978. Live & work in Madrid.
« I discovered the Art of painting in a atelier of my town, Lille, in 1995. I have long worked inside. I always liked the privacy and quiet of my room or studio. However, I quickly felt the need to overcome the limits imposed by the framework, and also the desire to show my work. That's how I came to the street, that's why I started to interact with my environment by pasting stickers expressing my ideas and messages or witnesses on the walls with spray. I finally had the chance to paint huge areas, in places often specials, being as much as possible aware of the context in which my tracks will evolve. On the other hand, I continued my work on canvas. First I played with the image and text, by creating or interpreting icons often associated with letters or words. My paintings were composed, as and as the ideas took shape.
They were already carrying the seeds of the following idea, which once have matured together would all take on new meaning. Today, thanks to the experience of the street that led me to synthesize my creations, and because I've understood that the "viewer" does not give as much time as I dared to imagine to the observation of work, I always simplified the result of my work. This is so the viewer can actually feel something, being talked to, without my physical presence being necessary. I make rhymes with colors, shapes and sounds to express emotion, feeling, or the evolution of thought. I paint as you write a diary, a notebook of inventions, or philosophical essai. Art is for me the sincere blend of science and Soul. I live what I feel, I paint what I live. »
Né à Paris en 1978. Vit et travaille à Madrid
« J'ai découvert la peinture dans un atelier de ma ville, Lille, en 1995. J'ai longtemps travaillé en intérieur. J'ai toujours aimé l'intimité et le silence du studio. Cependant, j'ai rapidement senti la nécessité de dépasser les limites imposées par le cadre, mais aussi de montrer mon travail. C'est pourquoi j'ai commencé à interagir avec mon environnement en collant des stickers exprimant mes idées, puis des messages ou des témoins sur les murs à l'aide de sprays. J'ai enfin eu la chance de peindre d'immense surface, dans des lieux toujours particuliers, en gardant le plus possible conscience du contexte dans lequel mes traces évolueront. D'autre part, j'ai poursuivi mes créations sur toiles. D'abord je jouais avec l'image et le texte, en créant ou interprétant des icônes souvent associées à des lettres ou des mots. Mes toiles se composaient, au fur et à mesure que les idées prenaient formes.
Elles portaient déjà les graines des suivantes, qui après avoir mûri ensemble prendrait un sens nouveau. Aujourd'hui, grâce à l'expérience de la rue qui m'a pousser à synthétisé mes créations, et après avoir perçu que le "regardeur" n'accorde pas autant de temps que j'osais l'imaginer à l'observation de l'oeuvre, je simplifie sans cesse le résultat de mon travail. Ceci afin que le spectateur puisse réellement sentir quelque chose, afin de lui parler sans que ma présence physique soit nécessaire. Je crée des rimes de couleurs, de formes ou de sons afin d'exprimer une émotion, un sentiment, ou l'évolution d'une pensée. Je peins comme on écrit un journal intime, un carnet d'inventions, ou un recueil philosophique. Chaque fois, je fais mon état des lieux. L'Art est pour moi l'union sincère de la science et de l'Âme. Je vis ce que je sens, je peins ce que je vis. »
Sérigraphie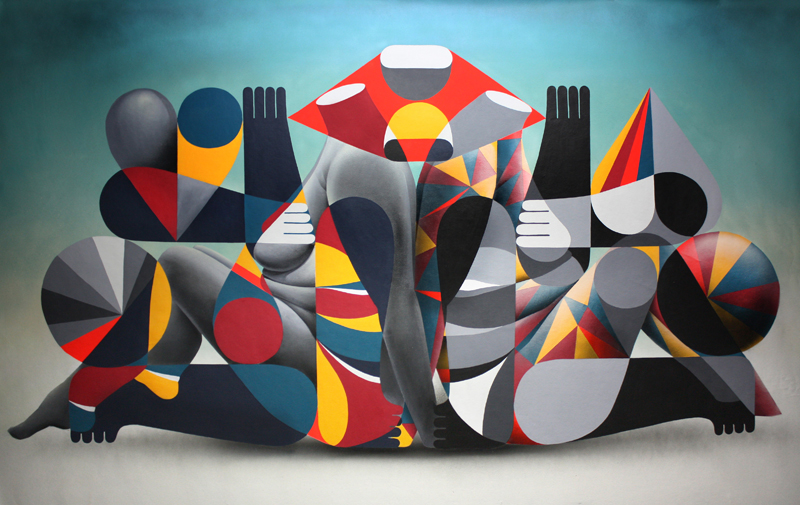 « Manwoman Sit » Signed & numbered (2012)