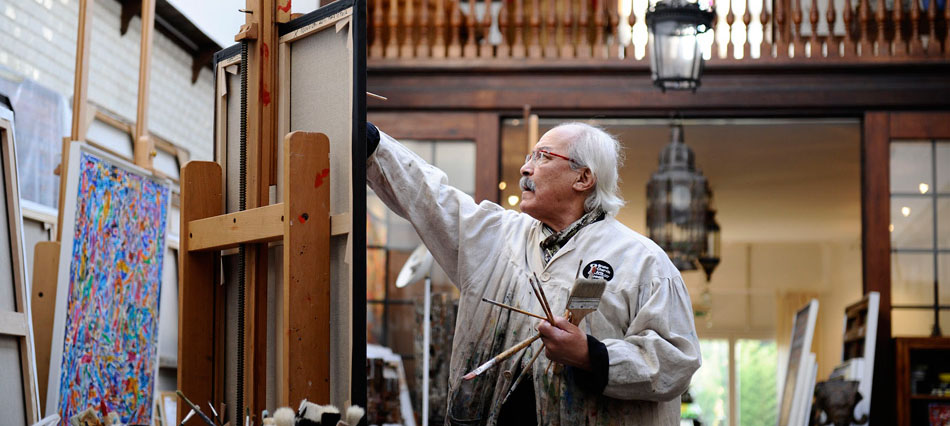 Born in 1946 in Maghnia (Algeria). Live and work in Tourcoing (France).
Born in 1946 in Maghnia (Algeria) Mahjoub Ben Bella studied at the Art University of Waharan until 1965, before joining the Academy of Arts in Tourcoing (North of France) where he currently lives and works. Anxious to get his master's degree, he continued his cursus at the National School of Applied Arts and the National Fine Arts Academy of Paris. During his training, he developed an artistic approach, based primarily on the use of Arabic calligraphy before to evolve into an abundant expression of shapes and colors. His singular pictorial universe developed with relentlessly marked out his Artwork immediately. Through dozens of exhibitions
around the world and numerous acquisitions by prestigious collections and museums, it stands out as an international dimension artist. His creations are nevertheless remained deeply rooted in its Algerian sources. His talent that embraces various techniques and media, has also stated in his monumental works: mural of the international airport in Riyadh (1982), 12 kms of paving painted for the famous bike ride Paris-Roubaix (1986), Nelson Mandela portrait at the Wembley stadium in England (1988), a 4000 m² Artwork projected on stage in the Pacaembo stadium, Sao Paulo, Brazil (1999); decorating a subway station Tourcoing (2000).
Né en 1946 à Maghnia (Algérie). Vit et travaille à Tourcoing (France).
Né en 1946 à Maghnia, Mahjoub Ben Bella étudie à l'Ecole des Beaux-arts d'Oran jusqu'en 1965, avant de rejoindre l'Ecole des Beaux-arts de Tourcoing (nord de la France) où il vit et travaille actuellement. Soucieux de parfaire sa maîtrise, il a poursuivi ses études à l'Ecole supérieure des Arts Décoratifs puis à l'Ecole supérieure des Beaux-arts de Paris. Durant sa formation, il a développé une démarche artistique, fondée d'abord sur l'utilisation plastique de la calligraphie arabe, avant que ce choix n'évolue de manière spectaculaire vers une expression foisonnante de formes et de couleurs. Son univers pictural singulier, développé avec un acharnement remarquable au travail, le distingue aussitôt. A travers des dizaines
d'expositions dans le monde et de nombreuses acquisitions de collections et musées prestigieux, il s'impose comme un artiste de dimension internationale. Ses créations sont cependant demeurées fortement ancrées dans ses sources algériennes. Son talent qui embrasse divers techniques et supports, s'est affirmé également dans des œuvres monumentales : fresque à l'aéroport international de Riyad (1982) ; peinture de 12 kms de pavés sur le fameux parcours cycliste Paris-Roubaix (1986) ; portrait de Nelson Mandela pour le concert-evenement au stade de Wembley en Angleterre (1988) ; œuvre projetée sur 4000 m² au stade Pacaembo de Sao Paulo, au Brésil (1999) ; décoration d'une station de métro de Tourcoing (2000).
Peintures originales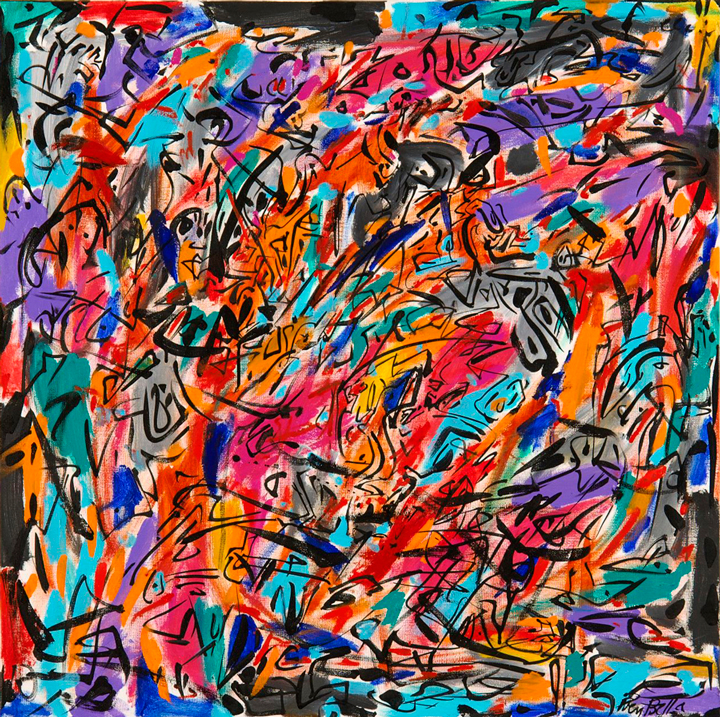 Nouvelles sérigraphies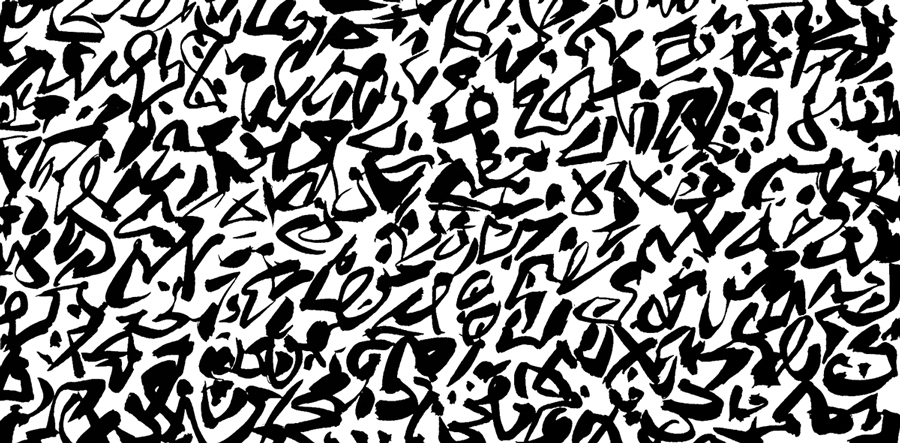 Tirages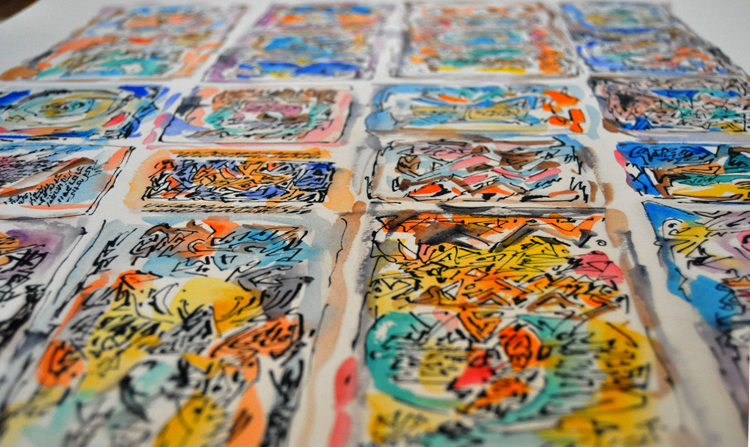 Gravures